Day 2 :
Keynote Forum
University of Miami, USA
Time : TBA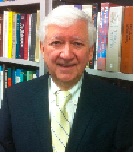 Biography:
Roger M. Leblanc received a B.Sc. degree in Chemistry from Université Laval in 1964, followed by a Ph.D. in Physical Chemistry in 1968. Then, he obtained a postdoc position at the Royal Institution of Great Britain for two years before moving to the University of Québec, Trois-Rivières, Canada, where he spent 20+ years of studying photobiophysics. He moved his research to the University of Miami in 1994. Dr. Leblanc is Professor and Chair of Chemistry Department at University of Miami. And his research interests are centered on biophotophysics, spectroscopy and surface chemistry and he has published more than 500 research articles related to these topics and has guided more than 100 Ph.D. and M.Sc.
Abstract:
Carbon dots (C-Dots) have recently attracted enormous attention due to their unique properties. In this talk, the synthesis, characterization and bio-applications of a new type of nontoxic, water-soluble C-Dots will be presented. A major medical challenge one faces to treat central nervous system (CNS) related diseases is to cross the tight junctions between endothelial cells, which are known as blood–brain barrier (BBB). Recently, our in vivo experimental observations suggested that the transferrin conjugated C-Dots could enter the CNS of Zebrafish while C-Dots alone could not. Thanks to the abundant presence of carboxylic acids on the surface, C-Dots are easily conjugated with transferrin and anticancer drug doxorubicin.
The system was then applied as a drug delivery system for the delivery of doxorubicin into cancerous cells. Our in vitro study showed greater uptake of the conjugates compared to free doxorubicin, the conjugates at 10 nM was significantly more cytotoxic than doxorubicin alone, reducing viability by 14~45 %, across multiple pediatric brain tumor cell lines. Accidents, disease and aging compromise the structural and physiological functions of bones, and in vivo bone imaging test is critical to identify, detect and diagnose bone related development and dysfunctions. Here we show that C-Dots with low quantum yield ("dark") bind to calcified bone structures of live Zebrafish larvae with high affinity and selectivity. Binding resulted in a strong enhancement of luminescence that was not observed in other tissues, including non-calcified endochondral elements. Retention of C-dots by bones was very stable, long lasting, and with no detectable toxicity. These observations support a novel and revolutionary use of C-Dots as highly specific bioagents for bone imaging and diagnosis, and as a potential bone-specific drug delivery carrier.
Keynote Forum
INSERM, France
Time : TBA

Biography:
Nadia Benkirane is Research director and head of the " Osteoarticular and Dental regenerative Nanomedicine" laboratory, at INSERM (French National Institute for Health and Medical Research), UMR 1109, Strasbourg, France. She was leader of "Active Biomaterials and Tissue Engineering" team INSERM 977. She received her Ph.D. from University Louis Pasteur, ULP, Strasbourg, France for the work on Development of pseudopeptides as synthetic vaccines. Dr. Jessel (Benkirane) then held a postdoctoral position in collaboration with the Institut Pasteur, Paris, France, working on Immunotherapy HIV, and another postdoctoral position on the application of modified peptides as vaccines against FMDV (Plum Island Animal Disease Center, ARS, USDA, Greenport, NY 11944-0848, USA). She joined the INSERM U595 in 2002 as a post-doc, and received the diploma to direct the research (HDR) in 2004. Dr. Jessel got the permanent position (CR1) in the INSERM 595 laboratory in 2004 and Research Director (DR2) position in the INSERM 977 and head of "active Biomaterials and Tissue Engineering team from 2009 until 2012). Currently Research Director (DR1) in the INSERM UMR 1109 (Osteoarticular and Dental Regenerative Nanomedicine" and heads the team. Dr. Jessel possesses expertise in diverse fields of molecular and cellular biology, immunochemistry, tissue engineering and biomedical engineering. In the last 10 years, she focused her research on the bio-functionalization of multilayered polyelectrolyte architectures with emphasis on the use of these architectures to induce specific cellular responses and gain control over cell proliferation and differentiation. Dr. Benkirane-Jessel have 138 publications (h index: 36) with peer-reviewed publications in high impact factor journals (Proc. Nat. Acad. Sci. USA; Adv. Mater.; Adv. Funct. Mater.; Small; Nanoletters, Biomaterials, ACS Nano), 5 chapters reviews and 5 international patents, she is a regular referee for a number of scientific journals Nature nanotechnology, Nature Materials, ACS nano, Biomaterials, Nanoletters… She is under the contract (Interface INSERM/Clinic 2008-2013) and she got also "Prime d'Excellence Scientifique" from the INSERM, 2010-2014 and the PEDR from the INSERM on 2016 for 4 years.
Abstract:
Recently, We have reported an active nanostructured collagen implant reinforced with human stem cells for bone regeneration. In our group, we have reported a "Smart Hybrid Materials Equipped with Nanoreservoirs of Therapeutics and stem cells spheroids ". This unique nanotechnology strategy is used to entrap, protect, and stabilize therapeutic agents into polymer coatings acting as nanoreservoirs enrobing nanofibers of implantable membranes. Upon contact with cells, therapeutic agents become available through enzymatic degradation of the nanoreservoirs. As cells grow, divide, and infiltrate deeper into the porous membrane, they trigger slow and progressive release of therapeutic agents that, in turn, stimulate further cell proliferation. This constitutes the first instance of a smart living nanostructured hybrid membrane for regenerative medicine. The cell contact-dependent bioerodable nanoreservoirs described here will permit sustained release of drugs, genes, growth factors, etc., opening a general route to the design of sophisticated cell-therapy implants capable of robust and durable regeneration of a broad variety of tissues.
Clinical trial: phase 1 Horizon 2020, (FR, UK, SP, SW) submitted
Feasibility and safety assessment of a therapeutic implant based on a bioactive collagen membrane and autologous mesenchymal stem cells derived from bone marrow for the treatment of femoral cartilage isolated lesions
Keynote Forum
University of Queensland, Australia
Biography:
Dr Li Li is an Advance Queensland Research Fellow (Mid) at Australian Institute for Bioengineering and Nanotechnology, University of Queensland. She is a materials scientist with extensive experience in nanoparticle synthesis and applications in targeted drug delivery and vaccination. She has developed several functional NPs platforms including layered double hydroxides (LDHs), silica NPs and nanoemulsions, and applied these NPs to efficiently deliver anti-cancer drugs and siRNA for cancer treatment. She has employed LDH-based nanoparticles to co-deliver drugs and gene to improve drug efficiency in cancer treatment. This new strategy provides a promising approach for advance cancer therapy. She established the close relationships with the national and international experts, published high quality research papers in Adv Mater, Biomaterials, Nano Letters, Nano research, Adv Funct Mater.
Abstract:
Chemotherapy is one of most common cancer treatments in clinics. In most cases, the clinical responses show that the efficacy of chemotherapy is limited by the development of multidrug resistance (MDR) in cancer cells during a long period of treatment. Target-specific delivery and sustained release of anticancer agents and siRNA has attracted considerable research interest in cancer chemotherapy. It is clear that the single treatment by either anticancer drug or siRNA delivered by nanocarriers can only achieve limited success in overcoming the MDR of cancer cells. Thus, the development of an effective strategy to overcome the multidrug resistance in chemotherapy remains a major challenge in the treatment of cancers, where co-delivery of anticancer drugs and siRNA would be a promising strategy.
Recently, hierarchical nanocomposites have attracted great interests in bioapplications such as drug delivery, biomedical imaging, biochemical sensing and biocatalysts owing to their structure features and unique properties.1 In our group, we have developed hierarchical SiO2@MgAl-layered double hydroxide nanocomposites (SiO2@MgAl-LDH) with various functional groups (-NH2, -SH, -PEG) via nanodot-coating strategy. These nanocomposites have showed enhanced siRNA and drug delivery to cancer cells. The functional SiO2@MgAl-LDH nanocomposites retained the layered structure and plate-like morphology as MgAl-LDH NPs. Moreover, functional SiO2@MgAl-LDH showed good dispersion in aqueous solution and cell culture medium. The in vitro tests have demonstrated anticancer drugs or siRNA delivered by functional SiO2@MgAl-LDH apparently inhibited the cancer cell growth.2. 3
Novel Drug Delivery Systems | Nanomaterials for drug delivery